Almost spring here in the great Midwest! But, some days…. not so much. It was 32 degrees and snowy just yesterday. It's APRIL 11TH, for goodness' sakes! So … seemed like a good time to recall my trip to warm and sunny San Diego!
First, my cousin. My cousin, Christina, is wonderful for lots of reasons, but my top 3 are:
We've been friends since we were babies (we're were born a month apart AND our dads are identical twins — we're like half-sisters!)
We share all the same obsessions (books, movies, running, eating & drinking, and The Walking Dead)
We have the exact same sense of humor (fantastically smart and quirky… if you ask us)
Our time together (when we weren't discussing books, movies, or zombies; or laughing so hard at our own jokes that tears were running down our faces) was focused on eating and drinking. San Diego is a huge craft beer town. So, when I say "drinking", I mean BEER drinking.I went to visit her this past November — which is a lovely time of year to go. The days are warm and there's loads of blue sky and sunshine; it does get dark early and the nights are cool, but not too cold.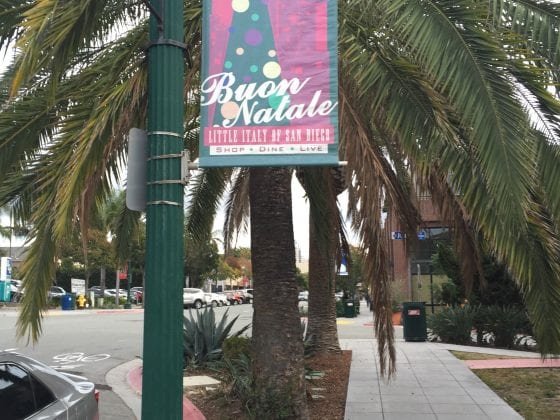 How California! Palm trees and Christmas greetings! In Italian!
Here's a run-down of our fun:
I took a 6AM (East Coast time) flight out of Fort Wayne, through Dallas, and showed up at the perfect arrival time of 10:30AM Pacific Time! "Perfect" because that sets the day up just right for: a big brunch, then a nap, then a hike, then a shower, and then dinner! Chris had the perfect spot in mind for brunch (yes, we were discussing food before my suitcase was even loaded into the trunk of her car). Just a short drive from the San Diego International Airport is the super cool  Hillcrest area which is filled with great restaurants, but Chris was headed right for Great Maple.
How flipping cute is this place?!
Great Maple, Another view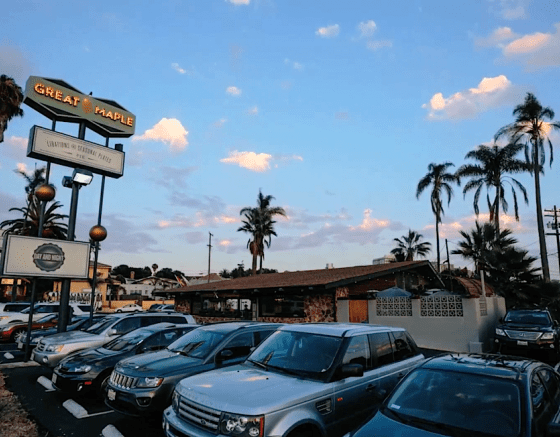 It seemed like a great idea (and it was!) to start off brunch with a Bloody Mary. And not just any Bloody Mary — thank you very much — the Pickle Mary! Vodka, housemade Mary mix, spices and salt rim, and a big ol' pickle! Have I mentioned how much I love pickles? I do.
Yum, yum, yum. Perhaps not the best dehydrated-from-8-hours-on-airplanes beverage choice…. but I just drank an entire pitcher of water and rolled right into my brunch choice: CERRILLOS CHILAQUILES.  As the menu says: "Corn Tortillas, Gourmet Chorizo, Hatch Chile Verde Salsa, Queso Fresco, Scrambled Eggs, Roasted Red Peppers, Avocado, Onions, Cilantro, Sour Cream". Have I mentioned how much I love a savory breakfast? Doesn't get much more savory than this (especially when you throw in a Pickle Mary). So, so good.
After aforementioned nap and a trek around the hills in Rancho Penasquitos. We freshened up and were ready for dinner! Christina had another great place planned for us: Stone Brewing Co. To which you may reply: "oh, a brewery, that's… nice." But, man, this is Stone Brewery World Bistro and Gardens in Escondido! One of the coolest dining environments I've ever experienced. Striking interior architecture with lots of concrete and steel and huge windows; beautiful outdoor dining spaces with table-top-high fire "pits"; beautiful water features babbling away everywhere; and meandering paths to follow through the beautifully lit landscape of native California plants. Gorgeous.
The food and beer were over-the-top great, as well. As Stone Brewery's website describes it: "We proudly specialize in locally grown, small-farm ingredients and feature an eclectic menu of world-inspired cuisine and our unique take on comfort food. As strong advocates for environmental responsibility and high-quality food, we are now the largest restaurant purchaser of local, small-farm organic produce in San Diego County … our Bistro has become one of the premier culinary destinations in San Diego County." Quintessential California dining.  We had a light and tasty Asian salad with seared steak, and an amazing mac & cheese with broccoli and a panko crust (pictured).
Mac & Cheese @ Stone Brewery
The next day we took a long, sunny hike along the breathtaking Torrey Pines seashore. Would you look at that?! Speechless.
Villa Capri, Carmel Valley, CA
That evening to celebrate my niece, Gabriella's, birthday, we had dinner at a great little Italian joint in Carmel Valley – Villa Capri. We enjoyed grilled shrimp,  salads, authentic Italian pizza, and light-as-air cheese ravioli. The food, and our entertaining Italian waiter, truly reminded me of being in Italy.
Saturday we continued Gabby's birthday celebration with – yes – more eating! We returned to the super cute Hillcrest neighborhood (home to Great Maple mentioned above) and met up with friends for brunch at The Fig Tree Cafe. I had the Wally Burrito (which I devoured before I remembered to take a picture — sorry.) It had eggs, avocado, scallions, house potatoes and salsa, and was delicious. But the coolest thing about it is (according to the menu) "$1.00 per sold burrito is donated to San Diego State University's Emerging Filmakers Fund". How California is that?
We walked off lunch by spending the rest of the afternoon at the stunning Balboa Park — truly a "Landscape of Art & Culture". Museums, concert halls, restaurants, gardens… you could spend several days there.
Hardwood Smoked Bacon Scramble Melt (Look at those cute little pans it comes in!)
The Vegan Hash (more of that wonderful California avocado!)
But apparently, we'd spent just enough time trekking around to work up an appetite. Again. We decided to chill out at home and just have a variety of take-out from Cotixan Mexican Food in Poway. Fancy, eh? But believe me when I say that this was one of the highlights of the trip. Why? Check out all the food pics on their Yelp page! I live in the Midwest. Mexican food here … Well… I just can't even…. Sigh. All I remember is that I ate a LOT of guacamole.
OK. Next day! Another reason to eat! We met up with more San Diego family at the waterfront C Level Restaurant in Harbor Island. The interior is cool, for sure, but the fantastic views across San Diego Bay of downtown and Coronado make it definitely worth a visit. The food is seasonal, local, sustainably sourced, and YUM. And (of course!) awesome craft beer selection!
After lunch, Christina and I spent some hours in Little Italy.
To get some exercise after that big lunch? Umm, no. We were there to check out more beer joints! We hit San Diego's famous Ballast Point brewery and I enjoyed a delicious and refreshing Grapefruit Sculpin (pictured — looking out from the front window seats at the brewery — a great place for people watching).
After that, we walked a couple of blocks to the beer-lovers paradise Bottlecraft Beer Shop & Tasting Room.  Another highlight of the trip for me — I'd just never seen anything like it. The tap choices are constantly changing. There's great sidewalk seating outside or a little upstairs balcony that overlooks the store inside. And ALL they sell is beer. Just to wander around the aisles and look at names and labels was a blast! Chris and I perched up in the balcony, enjoyed a couple of different great beers from the taps, and plotted out each of our "great American novels". Unfortunately, I can't remember the beers. Or the plots of our novels….
And it all was an awesome time with my awesome cousin.Sadly, the next day meant time to leave. After much discussion, Chris and I decided to bring our time together full-circle and return to Great Maple for brunch on the way to the airport. Another awesome decision on our part! I had a bacon scramble melt and Christina had the vegan hash.
Back home, I moped around a day thinking to myself, "I can never experience anything like San Diego here. Boo hoo." But rallied because a friend and I had a super fun evening planned. We kicked things off at Fort Wayne's iconic The Oyster Bar. And what did I spy as I perused the beer list? Yes! Stone Brewing Co. Arrogant Bastard Strong Ale. A little bit of San Diego right there in that dark little, 100+ years old, very UN-California (but still quite yummy) Oyster Bar joint. You know, life is pretty good here, too!
Oh. And because just about everything I do inspires me to go write about it — here's my "dummies' guide to craft beer" that I recently did for the local paper: Brewing Revolution! Inspired by my time in beautiful San Diego with my beautiful cousin! [Happy Birthday, Christina!]