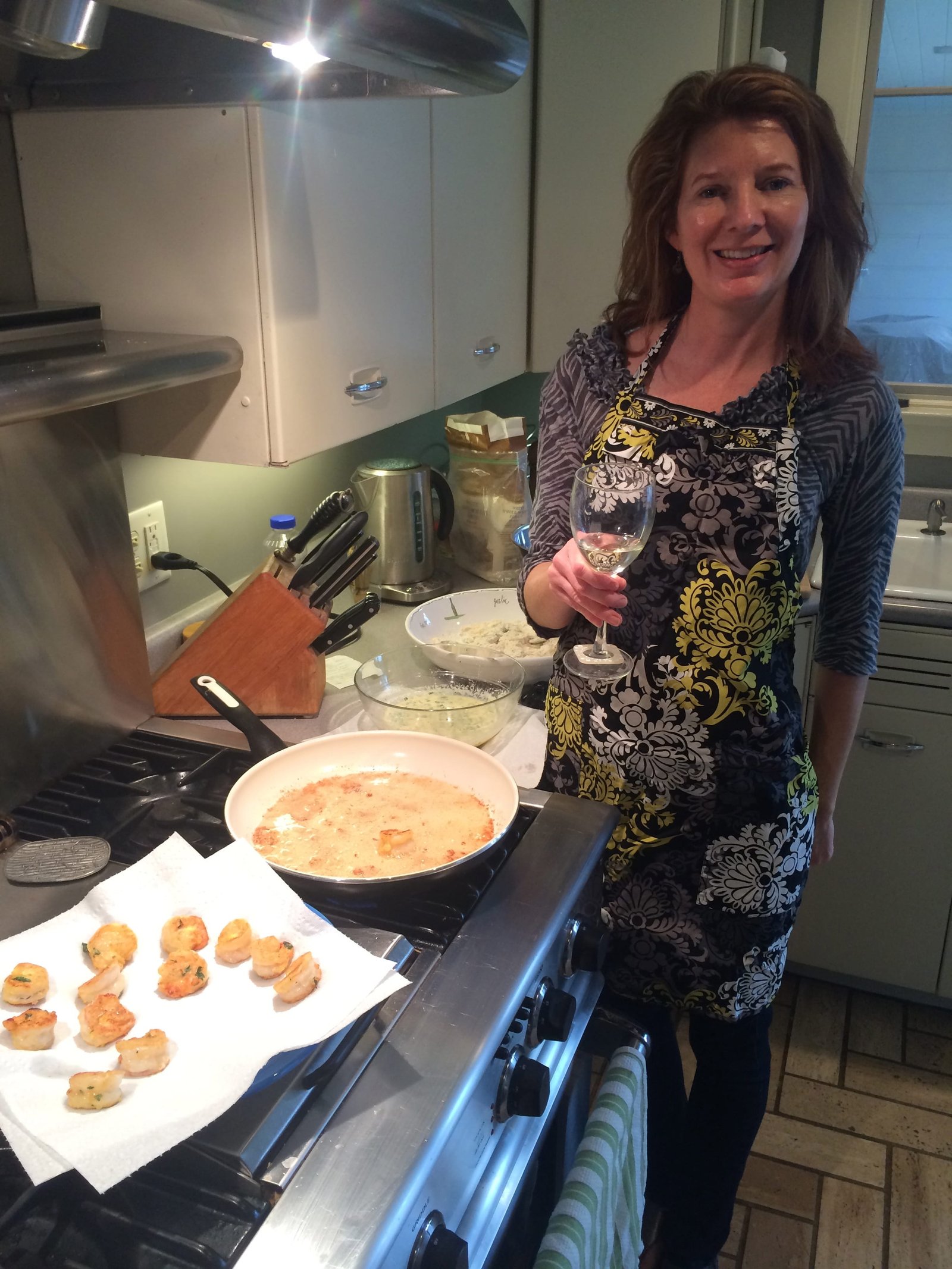 I started in on this year's Christmas post by rereading last year's Real Christmas Traditions. For the first time since January 2014.
Woah. A lot of changes since then. Yet, happily, so many things the same. Specifically: my three awesome boys, our fun times together and our family traditions.
Understandably, holiday traditions may take a bit of a hit when a family goes through divorce. It was very important to Bill and me — this being our first holiday season in our "new normal", as they say — that the boys' Christmas be as consistent with the past as possible. It helps a lot that we live near family and the kids have enjoyed the same holiday traditions with them for years — things like decorating sugar cookies with the cousins at Grammy and Papa's house.
So the importance of holiday traditions, particularly the food ones, was on my mind all season. Things like the cookie making, yes, but also the Prosecco, fruit cake and hors-d'oeuvres on Christmas Eve after church; the Christmas Day Italian feast using family recipes that have been around for generations; and the day after Christmas brunch at Grammy and Papa's with my sister's family.
I felt a deep obligation to the boys — as well as to remember the rest of the family we love, but wouldn't be seeing this year –to keep up my usual contribution to the holiday traditions: the Christmas Day Italian Feast.
As an aside: my role in the two other annual eating "events"?
The Christmas Eve post-church party isn't cooking, per se. I just have to remember to order our favorite fruitcake from Mary of Puddin' Hill; buy a couple of bottles of Prosecco; then pop into Fresh Market on Christmas Eve and load up on great cheeses, prosciutto, nuts, and fruit to have after Christmas Eve church with Grammy & Papa. While we all eat and drink, the boys write a letter to Santa and make a plate of cookies for him (and peel carrots for the reindeer, and put out some cheese for Santa Mouse — it's quite a production).
My cooking contribution to the day-after-Christmas-brunch at my parents': drink a couple of glasses of champagne then crack some eggs into one of the brunch casseroles. Every year, I perform these grueling tasks in stellar form.
The Italian Feast, though. That's on me. And it takes some Planning with a capital P and some serious hours in the kitchen (I roped the boys in to help some this year — increasing their help each year is definitely the long-term plan).  I love every minute of it, though, because I know how thrilled the boys will be to see all their favorites at the table on Christmas Day.
Here was the menu plan for Christmas Day:
1) Biscotti to have with our tea while the boys open their presents in the wee hours of the morning (this year: 5:45 AM!! —  that's about as "wee" as it gets)
2) Fran's Christmas Eve shrimp at brunch-ish time, after all the presents are opened and the various technological gifts have been figured out
3) Italian Feast late lunch/dinner
homemade Italian bread
spaghetti with "gravy" and meatballs
eggplant parmesan
lasagna
salad
lots of freshly grated Parmigiano Regionno (Parenting tip: make random teenagers stand in the kitchen and grate the parmesan — it takes a good 15-20 minutes with the box grater. It's an excellent way to pull him into a conversation with grown-ups without the pressure of "Now. It is time for you to talk to the grownups. Go!")
Pinot Grigios and Chiantis supplied by Papa; dessert cookies from Grammy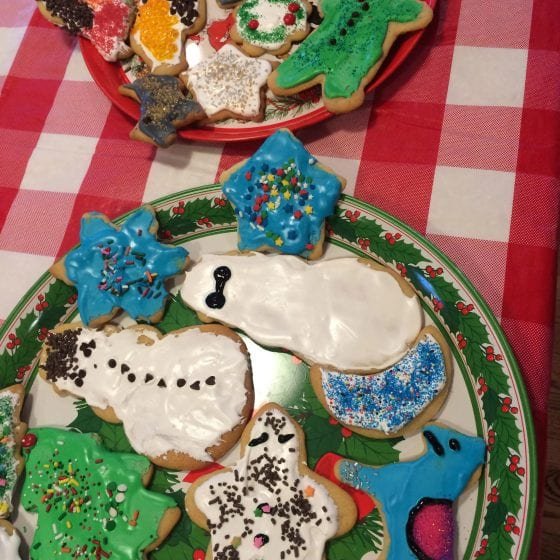 Recipes
Biscotti
Unfortunately, we've never had a copy of Fran's biscotti recipe, but years ago I made these (slightly modified from Giada De Laurentiis Everyday Italian) and Bill said they were the closest to his mom's that he'd ever had — so we stuck with them. I make either almond ones or dark chocolate chip ones. Or, as for this year, both!
2 C all-purpose flour
3/4 C fine yellow cornmeal
1 1/2 t baking powder
1 t salt
3 large eggs
3/4 C sugar
2 t almond extract  and 3/4 C chopped unsalted almonds
OR 2 t vanilla extract and 3/4 C dark chocolate chips (I used Ghiradelli brand)
Preheat the oven to 325 degrees F
Line a large baking sheet with parchment paper
Stir flour, cornmeal, baking powder, and salt together in a large bowl
With an electric mixer, beat eggs and sugar in another large bowl until pale yellow and fluffy, about 3 minutes
Add the almond or vanilla extract
Add the flour mixture to the eggs and sugar and stir just until blended (the dough will be soft and sticky)
Stir in chopped almonds or chocolate chips and let stand for 5 minutes
Using a rubber spatula transfer the dough to the prepared baking sheet forming two mounds spaced evenly apart
Moisten your hands with water and shape the dough into two 11 by 4-inch logs
Bake until lightly brown, about 35 minutes
Cool the logs for 5 minutes. Using a serrated knife, cut the logs crosswise into 1/2-inch-thick diagonal slices
Arrange the biscotti cut side down on the same baking sheet and bake until the pale and golden, about 25 minutes
Cool on baking sheet for 5 minutes; then use a metal spatula to transfer to a rack to cool completely
Dark chocolate chip biscotti loaves before slicing and 2nd baking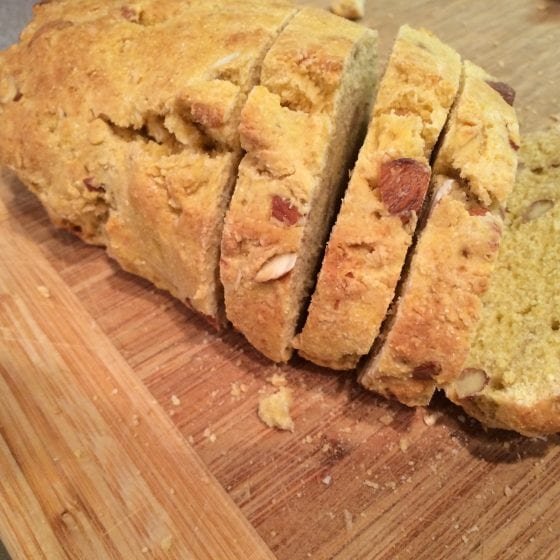 Almond biscotti; pre-2nd baking
Christmas Eve Shrimp
The recipe is the same as I used last year. Still "real food-ing" it up, using whole wheat flour. And, look, teenager helping!
Italian Feast — Advance Prep
The Friday evening before Christmas I did the following (you could do this weeks ahead because these dishes all keep really well in the freezer):
put on favorite apron
put on holiday music and open beer (see below)
make two pots of gravy
make meatballs
make eggplant parmesan
make lasagna
wrap everything up to go to freezer (to defrost the day before the big dinner)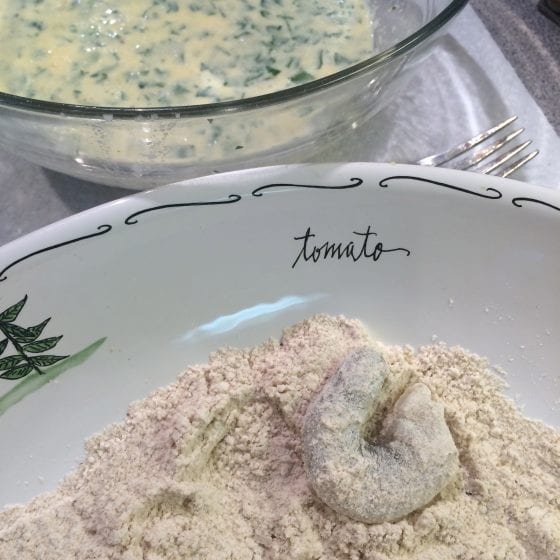 Shrimp dredged in flour mixture about to go in the egg wash
Helpful boy! Frying the shrimp! (yes, some of us were still in pajamas)
For how I make "gravy" and eggplant parmesan look at last year. Here's how I do meatballs and lasagna:
Meatballs
(using the recipe my father-in-law wrote down for me YEARS ago)
2 slices bread, thoroughly soaked in milk (I use my homemade wheat bread)
1 # ground beef
1 egg
2 cloves garlic, minced
2 T finely chopped onion
1 T chopped flat-leaf parsley
3 T grated parmesan cheese
Preheat oven to 325 degrees. Lightly oil a rimmed baking sheet. Mush by hand all the ingredients above (make sure to pour in the extra milk from the bread soaking) it should have a pate-like texture. Round by hand to about golf ball size and space evenly on baking sheet. Cook for 25 minutes. Either freeze then (on the tray, then place in a freezer bag); or put them right into a pot of tomato sauce to eat when ready.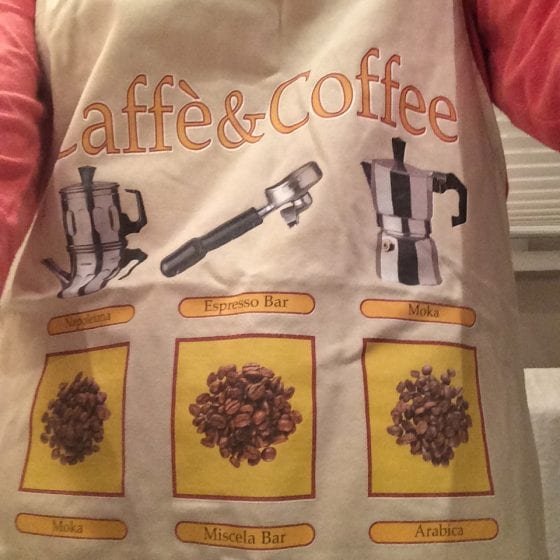 My lucky apron – bought in Florence, Italy 15 years ago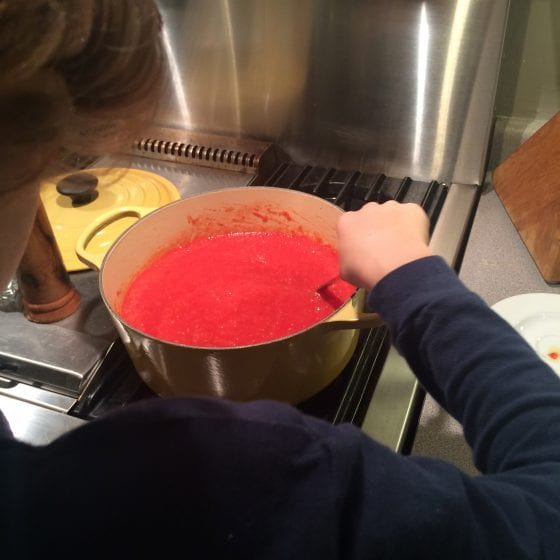 "Gravy" in progress; 10 year old helping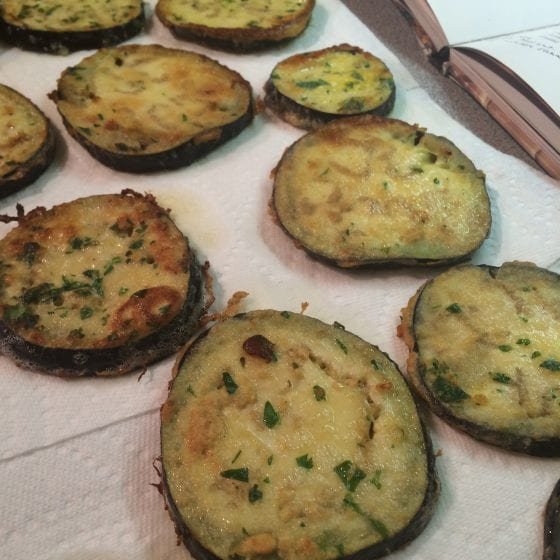 Fried eggplant waiting for assembly into eggplant parmesan
Meatballs right from the oven