Fort Wayne
Craft Breweries
Quick History Lesson:
In 1919 — when our city's population numbered only 86,000 (compared to 265,000 now) — brewing was a thriving industry in Fort Wayne. Thirteen breweries employed hundreds of people, contributed to the city's economy and brought people together to enjoy beer. Thirteen years of Prohibition closed down most of those breweries. A few — like Centlivre Brewery, which lasted until 1973 — survived by distributing ice and other beverages. (Fun fact: The statue on top of Hall's Old Gas House Restaurant of that guy with his foot on a barrel of beer? Charles Centlivre, founder of Centlivre Brewery.)
Hoff Brau Brewing Co. and Berghoff Brewing Corp. both hung on until the mid-1950s. Falstaff (a St. Louis brewery) took over the Berghoff brewery and stayed in production for a few more decades. With the closing of Falstaff in 1990, Fort Wayne found itself a city without a single brewery.
We are lucky to be living in happier times. Downtown Fort Wayne has six — and counting — thriving craft breweries!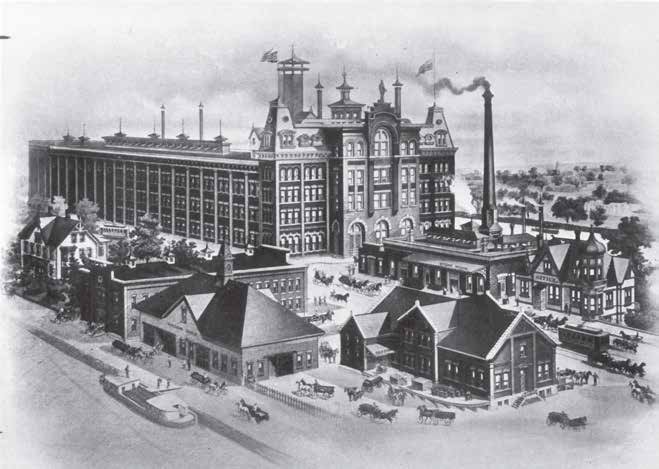 Craft Beer 101
Beer is traditionally made from malt, hops, water and yeast. "Craft" means the beer's been made by a craft brewer. A craft brewer is a small, independent brewer who uses traditional high- quality ingredients and methods that don't over-process the beer. Brewers get creative with the types of hops and malts they use — as well as other added ingredients like grains, spices, fruits, etc. — to make the wide range of styles and flavors.
There are two branches to the family tree of beer: the ale branch and the lager branch. About 98 percent of craft beers are ales, and most of those are India Pale Ales. [Back to history for a second: India Pale Ales (IPAs) get their name from the days when the English were shipping beer to colonial India. Beer brewed with more hops and a higher alcohol content held up better on the long sea voyage.] The lager tree includes styles like Pilsners and American light lagers.
Craft beers first gained popularity with younger consumers, but the local foods and farm-to-fork movements have attracted beer drinkers of all ages and geographical locations. Indiana, according to the National Brewers Association, now ranks 15th in the country with its 127 breweries statewide.
Whether you are dipping your toes (so to speak) into craft beers, or are already an aficionado (or "Liebhaberin" if beer-drinking makes you feel a bit Teutonic), you must check out the local breweries.
Mad Anthony Brewing Company
Mad Anthony is the grandaddy of Fort Wayne's local breweries. In 1998, Mad Anthony Brewing Company opened in the former Munchie Emporium on Broadway when friends Todd Grantham and Blaine Stuckey decided to turn their love of home- brewing into a career.
They opened what was, at the time, just the eighth brewery in the entire state and brewed Mad Anthony label beers in a small space off to the side of the bar. You can still see this space in use today, where their small batch and more experimental beers are brewed. Mad Anthony now has an impressive production facility across the parking lot from the original location and brews over 3,000 barrels annually.
Jeff Neels joined the Mad Anthony team in 1999 to oversee the restaurant and menu. Now there are three more Mad Anthony Brewery restaurants in Auburn, Warsaw and Angola. All of them serve a wide range of Mad Anthony beers (as well as other beer, wine and spirits). The original Fort Wayne location has 20 taps devoted to Mad Anthony beers; the other locations have 12-14 taps each.
It's sister restaurant, Shigs In Pit Barbeque —owned by Neels, Grantham and Stefan Kelley —serves bottled
Mad Anthony beer. A second Shigs location recently opened on the east side of town and will devote 23 taps to Mad Anthony beers. "Other taps will be taken over by seasonal offerings, small-batch brews and other creations from the beer makers," said Josh Volz, director of marketing and design for Mad Anthony Brewing.
Mad Anthony's reputation is nation-wide. It recently brought home four medals at the Indiana State Fair Brewers' Cup —one of the largest brewing competitions in the U.S., with over 100 official Brewers Guild judges from all over the country. "We actually won in some different categories than we thought we would," said Volz. "It's a real honor."
Mad Anthony won two medals in the IPA category: gold for Mosaic Moon Double IPA and silver for Hop Loco Double IPA. In the American Pale Ale category, Six 2 Midnight Session IPA won silver. Honey Cream Ale won silver in the Light Hybrid category.
"We'll always keep our classics — like Auburn Lager and Good Karma IPA —around," said Volz. "But our brewers enjoy experimenting, too. Things like watermelon wheat and sour ales — like cherry tart —are popular with our customers who enjoy trying the newest trends."
"Our goals for the future include adding more tanks to the brewery, renovating the front bar area at the Broadway location, expanding our menu and increasing distribution of our beer through most of Ohio," said Volz.
The more local brewers, the merrier, as far as Mad Anthony Brewing is concerned. The company is renowned for its commitment to furthering craft brewing and supporting local and Indiana brewers.
Every September, it hosts the hugely popular Brewed IN the Fort Festival to showcase craft brewers from Fort Wayne and the rest of the state. All of the following local breweries will certainly be participating in next September's festival —and there may even be some newcomers to the local scene by then!
Mug Clubs
Mad Anthony Brewing's Mug Club is available at all locations and will also be offered at the new Shigs in Pit BBQ & Brew at 6250 Maplecrest Road. For $39.95/year, members get their own 20-ounce mug, Wednesday night mug fills for $1 off and an invitation to the quarterly Mug Club Member's Tasting Parties to sample new seasonal releases and enjoy free appetizers. At the end of the year, members may take home their mug.
Summit City Brewerks offers a Flight Club and a Mug Club for $49/year (annual renewals are $25). Flight Club includes a handmade "big stick" flight paddle, five 5-ounce pours for the price of four and a free birthday flight. The Mug Club includes a Summit City Brewerks custom ceramic mug, 16-ounce fills for the 12-ounce price and a free birthday fill.
Summit City Brewerks
Will Long and David Tomaszewski had been home brewing together for almost six years when they decided to find a space to share their creativity and wide variety of beers with Fort Wayne. They renovated space in the old Bunn Candy Bar Factory and opened in early 2015. Since opening, they have released over 450 different brews.
Currently, Summit City has 23 of its own beers on tap, with 14 of the others for guest taps. "We offer as much local as we can," said Tomaszewski, "like Taxman and 3 Floyds. We also offer some hard ciders from Michigan, and local Satek and Two-EE's wines."
Summit City prides itself on the wide range of beers it produces: "All types. Very hoppy, not hoppy, triple dry-hopped beers; high alcohol, low alcohol. Craft beer is a lot like the culinary arts," said Tomaszewski.
"There's a recipe, but you have an idea of what you want it to be like and how you think it should taste, and you make it your own."
The brewery always features several of its IPAs and other popular styles, like stouts, in different iterations. "Our flagship beer is Carl's Cream Ale," said Tomaszewski, "I call it our 'gateway' beer, because it's familiar for beer drinkers who are comfortable with the popular light American beers."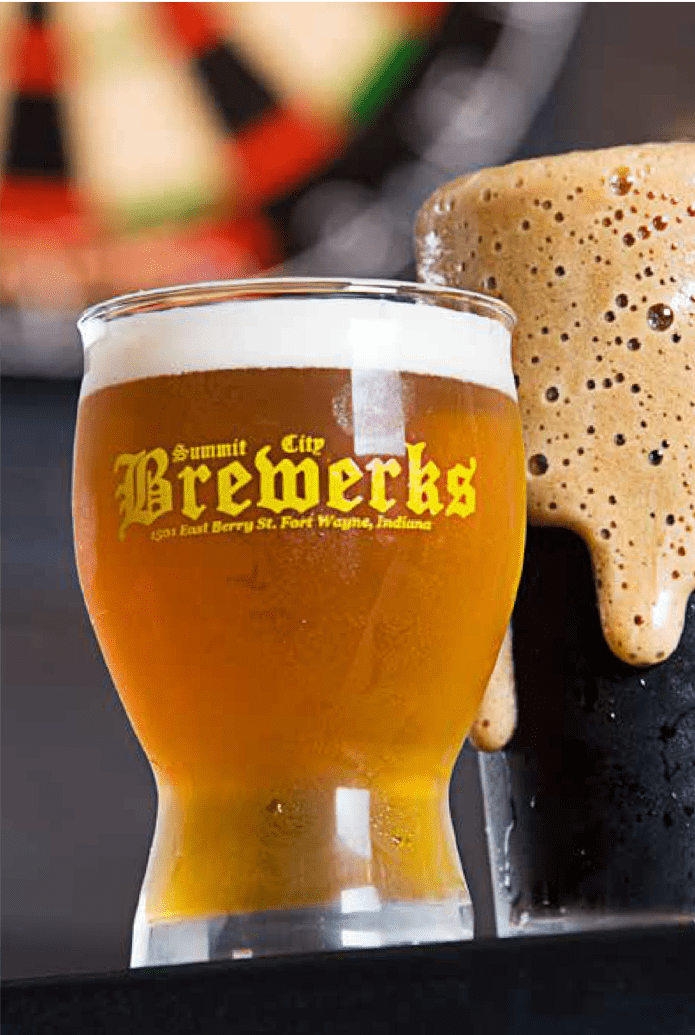 Summit City is planning to ramp up its sour ale program with a dedicated sour fermentation room. It has dozens of barrels of sours that have already aged nearly two years. "Sour means they have been barrel fermented with wild yeast and infected with a souring bacteria," Tomaszewski explained. "Totally safe for consumption —it's the same bacteria as in yogurt."
The brewery is kid-friendly, except for the space immediately next to the bar. They've recently opened an outdoor patio and added a large indoor family room. There's live music on weekends. "We love being the 'local watering hole' —a locally-focused business that serves our neighbors. We're right off the Greenway and get a lot of regulars from nearby neighborhoods," said Tomaszewski.
Summit City is hoping to begin regional distribution of some of its in-house releases. It is also looking to expand the kitchen space and the food menu. But Tomaszewski assured, no matter the expansion or changes, "The focus is always on the beer!"
Birdboy Brewing Company
Birdboy Brewing, a production- only brewery focused on traditional European-style beers, opened in August 2015. Ben Thompson, owner and brewer, fell in love with home-brewing in 2008. He started home- brewing to recreate the flavors of the types of beers he most enjoyed. He perfected his techniques and realized his ultimate goal was to start a brewery and share his work with others.
Thompson explained the inspiration for the brewery's name comes from Fort Wayne's own pioneer of aviation Art Smith, a.k.a. the Bird Boy. Two years after the Wright Brothers' first flight, fifteen-year-old Smith, having only seen an airplane in a magazine, convinced his parents to mortgage their home so he could build his own plane. After crashing that one and building another, he went on to become a world-renowned pilot and stunt flyer. He was the first American to loop the loop and originated skywriting.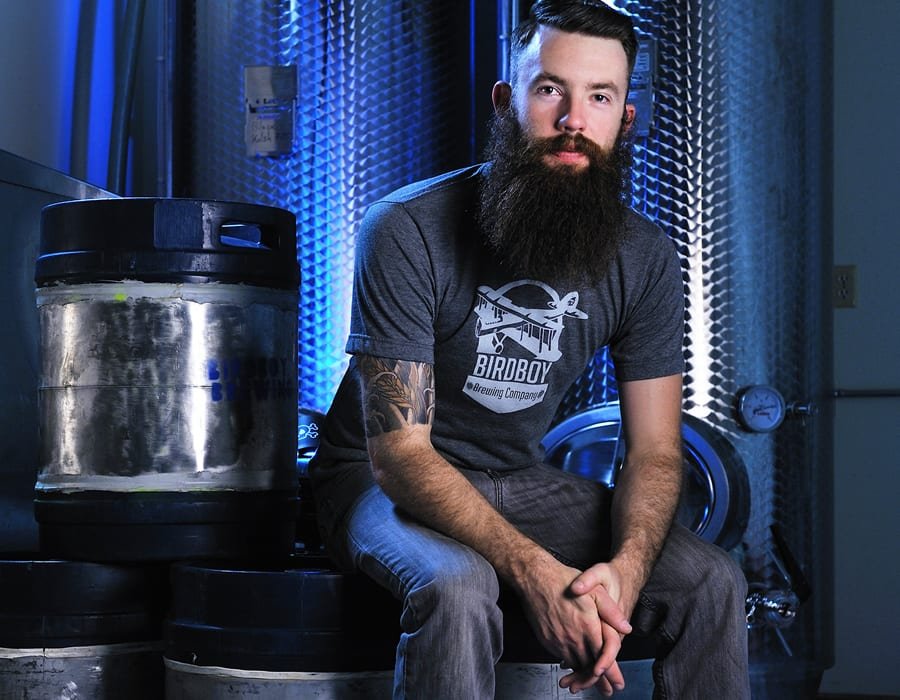 Smith was also instrumental in developing the transcontinental air route, night flight and lighted airways. While flying for the U.S. Air Mail Service, he died in a crash during Lindbergh, on his celebratory flight across the U.S. after he completed his famous first Transatlantic flight, circled three times over Fort Wayne as a tribute to his friend.
Thompson is an aviator himself. He obtained his pilot's license in high school and moved to Pittsburgh to study aircraft maintenance. It was there he was introduced to craft beer. "I've been studying and perfecting the craft ever since," he said, "and hope to reflect Bird Boy's adventurous spirit in the new and exciting choices we offer to the local beer scene."
Birdboy Brewing Company's Belgian and other traditional European style beers — like German Rauchbier, a smoked lager — are served at over 50 restaurants and bars between here and Indy. Thompson is working with local food truck purveyors, Sol Kitchen, to pursue opening a tasting room downtown.
The brewery is open to the public for Growler Hour every Friday and Saturday from 5-9 pm for growler fills and free tastings. If you're lucky, Thompson's dog, Huckleberry — the brewery's mascot — will be there, too.
Crafting Your Own
Interested in brewing your own beer? It's fairly straight-forward, and local home-brewing stores are happy to give you any advice you need.
Brewing is basically a four-step process: malting, mashing, boiling and fermenting. Malting is the process that turns the starch molecules in the grains into sugars. Mashing uses hot water and enzymes to create smaller sugar molecules, called malt sugar. The water, malt sugars and other substances from the malt are called wort (i.e. unfermented beer). Before wort can be fermented and turned into beer, it must be sanitized by boiling. Fermentation then occurs when yeast is added to the cooled wort.
Some specialized equipment is needed — all of which must be food- grade plastic and glass. Starter kits can be purchased at local brewing stores.
Once you've mastered the basics, start experimenting and let your creativity run wild. Local brewing stores say their business is on the rise with the increased interest in craft beers —and home-brewers are getting more creative all the time as they're influenced by the range of craft beers they enjoy at local bars and restaurants.
These stores can set you up with all you need to get started: The Brewers Art Supply, 1425 N. Wells Street, 260.426.7399 and Hops & Harvest, 10812 Coldwater Road, 260.918.3035, hopsandharvest.com
Trubble Brewing
Trubble Brewing opened in early 2015 in a renovated, charming old restaurant space on Broadway. Owner/ Brewer Chad Hankee —a home brewer for many years —said, "Besides all the great beer we've been brewing, highlights since opening include adding more fermenters and barrels in the brewing side, seeing the patio become a very popular space to hang out and hear live music and having the food menu really come together.
Ramen night on Thursdays has been really popular."
Trubble always has a few taps reserved for other regional breweries, like Taxman, but the rest are devoted to its own stock. "Mindtrap IPA is always a best seller, and Engineered by Aliens is popular," said Hankee. "We're working on steam beer and juice IPAs, too."
A juice IPA doesn't actually have juice in it. "There are seven pounds of lactose —an unfermentable sugar —used in the brewing process," explained Hankee. "That gives it a lot of body and a great 'mouthfeel.' Different strains of hops, with more citrus notes, are used, too."
Steam beers are lower in alcohol and use a particular California yeast strain. (They were originally called steam beers because of the steam rising off the outdoor fermenting tanks at Anchor Brewing in San Francisco, where the recipe originated). "It's a good, comfortable beer for people coming off domestic lagers," said Hankee.
Trubble Brewing beers are available at a number of places around town, and the brewery hopes to expand its distribution throughout Indiana. The brewery is still growing and expects to be going through a second expansion phase soon.
For now, Trubble's cool space with local artwork on the walls, its regular Trivia Night, comfortable patio with the nearby babbling fountain, good food and great beer: That's all you need.
Junk Ditch Brewing Company
Co-owners Jack May, Andrew Smith and Dan Campbell crossed paths at Joseph Decuis a few years back. While May moved away to work in Baltimore, Smith and Campbell started up the Affine Food Truck. When May retuned and joined them in the food truck business, they soon decided a brick-and-mortar establishment —with onsite brewery —was the next step in achieving their everything-from-scratch culinary goal.
They eventually were able to buy the old Korte Paper Company warehouse on West Main Street and hired Patrick Gould and Todd Stone as brewers. Junk Ditch Brewing Company opened its doors in July 2016. On opening day, it had just one of its own beers on tap. It now offers 12 different Junk Ditch beers, plus a New Day cider — "For the gluten-free," said May.
"Our oatmeal IPA, Goulden Oats —along with the Junk Ditch burger —is our consistent best-seller. We're looking into barrel aging small batches, but we are really pleased with our traditional offerings and our seasonal beers. We are happy with doing standard styles, but doing them to perfection," said May.
One of the highlights since its opening has been the Tuesday Food Truck rallies in the green space in front of the restaurant. The kitchen is closed that day, but you can buy wine and beer in the restaurant and eat food truck fare. Next year, they hope to add a concert series to the weekly event schedule.
Other goals for the future include continuing to develop the warehouse, add a dining area for private events and organize space to better support the Affine Food Truck and GK Baked Goods (the third part of the Affine Hospitality group), which will open a retail space and small café next door to Junk Ditch Brewery in 2018.
The best part of this year of successes? May said, "The overwhelmingly warm welcome we've received, especially within the beer community. All the local restaurants are great —there's friendly competition, of course, but always in a supportive way."
Worth The Drive
FATHER JOHN'S BREWERY: This brewery, performance venue and restaurant is housed in an old church which has been decorated with effusive whimsy. 301 W. Butler Street, Bryan, OH 43506, 419.633.1313, fatherjohnsbrewery.net
CHAPMAN'S BREWING COMPANY: The brewery and its original taproom are located in Angola, IN. 21+. Chapman's also has taprooms in Columbia City and Fort Wayne (inside Fortezza Coffee). 300 Industrial Drive, Angola, IN 46703, .260.319.5495, chapmansbrewing.com.
DARK HORSE BREWERY: Take a brewery tour and visit the taproom and Dark Horse Commons: Dark Street Roasting Company & Coffee House, Dark Horse Bakery, Dark Horse Creamery, Dark Horse Candy Shop and Shaded Pony Woodworks —the final destination of all their oak barrels, where used barrels are dismantled and repurposed into furniture and other household items. Family-friendly. 511 S. Kalamazoo Avenue, Marshall, MI 49068, 269.781.9940, darkhorsebrewery.com
LAOTTO BREWING: Located inside the newly renovated LaOtto Brewing buildings, this 21+ brew-pub serves up its own craft beers and guest taps, along with small plates, sandwiches, burgers and pizzas. 202 S. Main Street, LaOtto, IN 46763, 260.897.3360, laottobrewing.com
Gnometown Brewing Co
Though this option is fairly new to the scene, the Hoppy Gnome restaurant has been serving great food in the iconic mid-century modern Anthony Wayne Building for a few years. The GnomeTown Brewing Co. moniker encompasses the restaurant, as well as its own onsite brewery and new brew-your-own on-premises service.
"The initial goal of Hoppy Gnome was to be a restaurant with a creative menu and a focus on craft beers — local as much as possible. There was an idea on the back burner of eventually starting up a brew-on-premises service. Along with that concept, the idea of starting our own brewery just made sense," Peter Shuey,  managing partner, explained.
Mike Flaherty, who was a homebrewer for over nine years, was brought on as brewer, and GnomeTown began offering its own beers in December 2016.
It now offers eight of its own beers on tap. Four of the taps are devoted to customer favorites like a smoked porter, amber ales and IPAs. The other four deliver a constantly-rotating selection of new and experimental options, like saisons, imperial black ales, and even a smoked jalapeño IPA.
"It's great with our food," said Shuey, "But we also have 36 taps of craft beers from other breweries."
What's the deal with this brew- on-premises idea? Flaherty explained, "It's the first one in the state. We have eight kettles available for guest brewers — the general public — to brew their own beer."
The brewery space — across the lobby from the Hoppy Gnome entrance — is open for seating on Fridays and Saturdays and offers the full restaurant menu and bar offerings.
Can Fort Wayne support more breweries? "Heck, yes!" said all the local brewers.
Look at Spokane, Washington, they say. Population 208,916: 20 breweries. Grand Rapids, Michigan? Population 196,445: nine breweries. And don't even get them started on Bend, Oregon, where a paltry 81,236 people supports 22 breweries!
A Stronger City One Beer At A Time | Fort Wayne Magazine